OLD-TIMER'S VIEW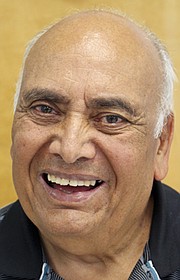 I was in Ellensburg five years ago doing an interview about a winery. When I came back to my car, I reached into my pocket, and there were no keys.
I walked back to my car not wanting see my keys on the seat, exactly where they were. I'm such a nerd I never learned how to open a car door with a coat hanger or a wire.
I wasn't far from a tow company. So I walked over and took $45 worth of medicine.
But I got a story out of it. I went back the next week and interviewed the owner. His company was called when 18-wheelers slid of Interstate 82 into the canyons between Ellensburg and Yakima.
He had the rigs for that. Some times he took two rigs and worked for hours while the State Patrol re-routed traffic
I told Pat about the lost keys and was going to get a second key to hang somewhere on the exterior of my car. There was no such place.
I did the next best thing and handed the key to Pat. The she got a second key for her car and handed it to me.
I never locked myself out of the car again, and I never had to call Pat. Until the night of the Sunnyside City Council's first budget workshop. When council took a short break, I headed back to the office.
I reached into my pocket as I went out the door. No keys. I went back into council chambers and checked the chair next to where I was sitting. No keys.
Hoping against hope I went to the car. They were sitting in the same spot as they were for the Ellensburg incident.
No problem. Call Pat. But I always leave my cell phone in the car's console when I do interviews or attend meetings. The one time I didn't do that, the phone went off.
In the second row while the preacher was saying "dearly beloved" at my grand niece's wedding in Florida. Nobody would have noticed it was me, but it kept ringing as I struggled to get it out of my pants pocket.
Last week I finally had to find help. I didn't want to pay $50 or whatever it costs to open a car door these days.
There was no one in the foyer, not a cop, not a civilian. I hoped the workshop hadn't re-started. It had.
I hadn't seen my co-worker Julia when I checked the seats for my phone. Hoping she'd gone to the rest room, I waited a few minutes in the Foyer. She hadn't.
Embarrassed, I back into council chambers. I signaled Julia that I needed her help.
Back in the foyer, I explained what happened. She handed me her phone. I called Pat, thanked Julia and stayed outside, knowing Pat would be there in about 10 minutes. She drives like Mario Andretti.
Not this time. I don't know how long it took, but I was freezing cold when she arrived. I guess that was my punishment. Now I'm thinking about punching a hole in the car's body to hang another extra key.
I promised myself not lose my car keys again, and I haven't. Last Friday, I locked the door to the house and walked to the car with my keys still hanging on their hook.
Oops.
But a neighbor woman has copies of our garage and house keys because she often does little chores for us. I walked over to ask her or her mother-in-law to open my house door. Neither was home.
— Ted Escobar is the managing editor of The Daily Sun. Email him at tescobar@dailysunnews.com.
More like this story