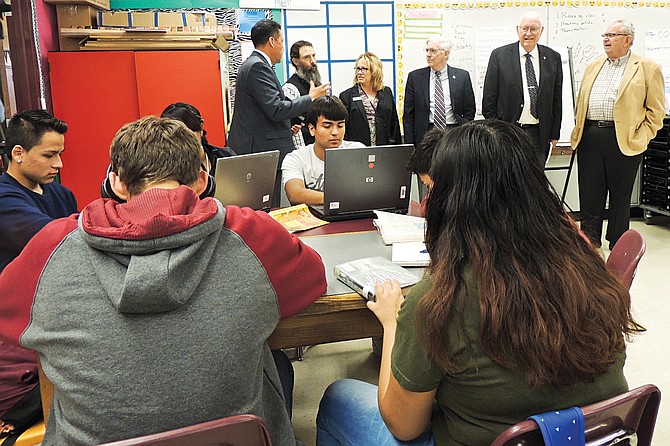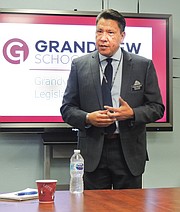 The School District is planning to build a new high school, but nothing will start until the legislature passes the state's capital projects budget.
It has been held up by a political struggle between the Republicans and the Democrats in Olympia.
Basically, the Republicans in the Senate will vote for the budget if the Democrats in the House vote for a bill to undo the Supreme Court's Hirst decision.
At the district level, the money is there. Voters have approved a construction bond of more than $42 million.
The School District courted 15th District legislators Bruce Chandler of Granger, Jim Honeyford of Sunnyside, David Taylor of Moxee and 14th District lawmaker Norm Johnson, all Republicans.
The legislators were treated to a continental breakfast and video presentation of the planned high school.
School officials were cordial and courteous, and did not attempt to talk to legislators about their position. However, they did mention they are waiting for the capital budget.
As he went through some of the figures, Brad Shrieve, assistant superintendent for finance and operations, said: "We know you have tough jobs. I don't know you can fund what everybody asks for."
Shrieve suggested to the legislators that increases are called for in allocations of square footage and construction costs by the state.
Superintendent Henry Strom launched the presentation with enrollment data. He said the district has 3,740 students, 92 percent Hispanic and 7.5 percent white. He added that 85 percent are on free or reduced price lunch.
Speaking of the future, Strom said: "You just can't have enough space to keep up with the demand."
Strom said their plan calls for two gyms and an auditorium. He said community support was high for that during community discussions. One reason, he said, is high community use of district facilities.
Strom noted the current high school was built for 500 students. There are 985. Mandatory state testing is done in the gym, eliminating some physical education classes.
High school principal Kim Casey gave the legislators a tour of the school. Students taking states tests were using about one-fourth of the gym floor. Some classrooms were packed with students.
The new school will be built on the site of the current school, which will be demolished. Officials said it is the most cost-effective plan.
Shrieve said the new school will be a two-story building with a capacity for 1,200 students. He said the state has project an enrollment of 1,115 in 2020.
Legislators had few question, if any. Chandler agreed with school officials that "it's a tight market for contractors."
Honeyford asked if the district had looked carefully at the cost of finish materials, saying some are very high.