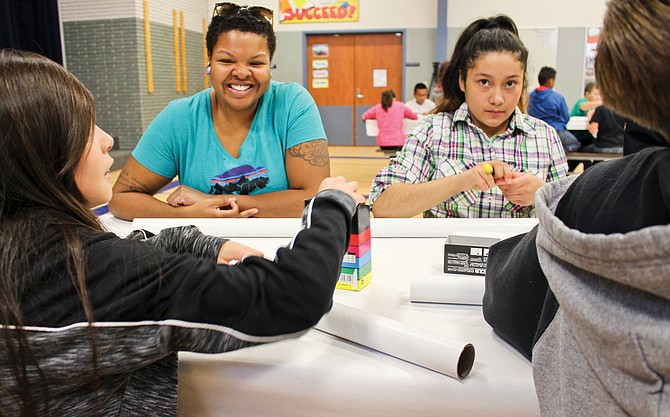 GRANDVIEW — Mingling with the students following an early morning mini concert was just the ticket for Stephanie Anne Johnson of Tacoma.
A one-time contender on popular musical talent program, The Voice, Johnson visited with fifth graders sharing stories with the Arthur H. Smith Elementary school students.
"I really like working with kids," said the one-time AmeriCorps volunteer and outreach advocate.
When not playing her music or writing original music, she also volunteers at the Rain City Rock Camp for Girls in Tacoma.
"It's a place where girls can focus on self-esteem, and self-care," Johnson said.
"I like it because I can bring in the aspect of what it is like to be a girl in a band," she said.
Johnson said she likes doing the musical outreach involved in Yakima Valley musician and promoter Cody Beebe's Musician in Residence program.
"I love sharing the musical arts and letting kids find its meaning for them," she said.
Johnson, 33, who will release a new album Nov 10, performed along with Beebe and Blake Noble in the first of a three-part series of concerts being held in the district through Thursday.
Johnson is visiting the School District through the program organized by Yakima Valley musician and promoter Beebe.
Beebe, the district's musician in residence, organizes visits from professional musicians throughout the school year, school spokesperson Elena Olmstead said.
In addition to releasing her new album of hymns and gospel blues, the Seattle Pacific Lutheran University graduate, said The Voice experience was a wonderful.
"It taught me I had to have faith in myself and an overwhelming drive for success and the desire to be ready to succeed." she said.
Johnson is not the first Voice contestant to agree to Beebe's request to share their music with the Grandview schools. Voice finalist Austin Jenckes visited the schools in 2015.
Johnson's schedule today is from 9:30 to 10:30 a.m. at McClure Elementary School; and on Thursday, from 9:30 to 10:30 a.m. at Harriet Thompson Elementary School.
The Musician in Residence program is offered twice a year in the district, Olmstead said.