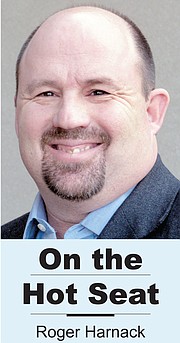 The National Park Service was established in 1916 to set aside ecological and historical sites for protection and public enjoyment.
An announcement Tuesday by Department of the Interior Secretary Ryan Zinke, however, may have just wiped out much of the public enjoyment part.
Under Zinke's proposal, entrance fees — just to drive a car into a national park — would jump to $70. That's more than double the current $25 fee at Mount Rainier National Park. And that's on top of the other taxes and fees we — the owners of the parks — pay into the federal coffers to manage the land on our behalf.
National Park Service officials claim the additional money will solve two problems: Too many visitors and not enough money to keep up with a backlog of much-needed work.
A jump to $70 certainly will reduce the number of visitors. However, it will unfairly target ruralites who generally live on lower wages and more frugal budgets than city folk.
Given the nature of Eastern Washington, the price hike will put park access out of reach of many families, and not just at Mount Rainier. Entrance fees for portions of Olympic National Park in Western Washington and Glacier National Park in Western Montana will also be increased.
Looks to me like federal agencies are making parks a playground for the rich. Looks to me like the Department of the Interior forgot who owns the parks — taxpayers.
I have several novel ideas for federal officials:
Stop taking private land off the tax rolls. The Department of the Interior has created much of the problem by continuing to buy land it cannot afford to maintain.
Stop spending money to turn "primitive" roads into paved arterials. Stop spending money to build wooden boardwalks over trails in the back country.
While it's nice to make the back country more accessible, having been active in search and rescue, I can say many people encouraged to go one more mile into the woods are ill-prepared, at best.
By leaving roads and trails in a more primitive state, fewer urbanites will think they're ready to take on Mother Nature.
Start opening up more timber to harvest. And increase the issuance of mining, leasing, grazing allotments, etc.
In north-central Washington just outside Republic, Kinross Gold spent $10 million or more over the last decade trying to get a permit to just drill a few core samples in federal forests ultimately managed by the Department of the Interior. The company never got the permits. As a result, the federal agency will lose related mining revenue taxes.
That scenario could be playing out northest of Mount St. Helens next.
There, Ascot Resources is planning some exploratory drilling for gold, copper and molybdenum. Should the company hit paydirt, Interior agencies will get a healthy injection of mining revenue taxes. But if the agency buckles to extreme environmental groups, it'll be asking taxpayers for more money, once again.
The agency is also replete with wasteful bureaucrats eager to spend our money on things other than necessities.
Take the partial government shutdown four years ago.
Congressional bickering meant a small freeze on funds for several government agencies. And while the percentage was tiny in terms of the overall budget, the National Park Service, National Forest Service, Bureau of Land Management — all under the auspices of the Department of the Interior — sent crews out to physically close trails, boat launches, forest roads and more. They even had rangers backpack into remote areas and essentially kick hikers out, under threat of being cited for trespassing.
What a waste of money.
Until that type of wasteful behavior ends, the agency shouldn't be allowed to charge you and I more to manage federal lands on our behalf.
Then there's the issue of public access on long-established forest roads.
Federal agencies should stop gating and berming every road officials can think of.
Instead, post them as "primitive" and force forest users to be prepared or pay a fee for rescue services.
The idea has merits on two fronts: 1. Backcountry users will keep forest routes open if they want to hunt, hike, etc. 2. Rescue services will come at a premium price for the ill-prepared.
What I'm saying in a nutshell is this: Rather than hiking access fees to lands owned by the public, the Department of the Interior should shave employee ranks, halt all new land acquisitions and look at revenue-generating opportunities.
Given the state of our forests and parks, the federal agency should be ashamed to ask us to pony up more.
— Roger Harnack is the publisher and editor of The Daily Sun. Email him at rharnack@dailysunnews.com.