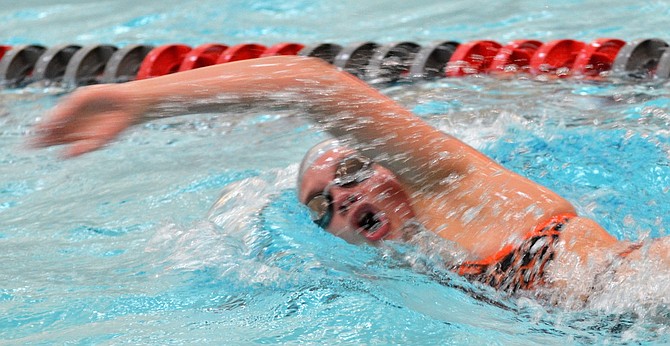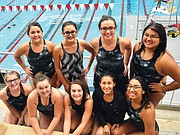 PULLMAN — The Grandview, Prosser and Zillah girls swim teams competed at the District 5/7 swim meet at Gibb Pool on the Washington State University campus Friday and Saturday.
Zillah has three swimmers — Makayla Koerner, Chloe Messmore and Elie Sandoval — and a relay team, which includes the team's fourth swimmer — Mara Sandoval — who qualified for state with Top 3 finishes.
Koerner won the 100-yard freestyle and backstroke.
In the finals, she clocked 57.90 seconds in the freestyle, shaving 2 seconds off her preliminary time.
In backstroke, she finished in 1:07.40.
Messmore was second in the 100-yard breaststroke finals, clocking 1:13.79, and Elie Sandoval was third in 28.50 in the 50-yard freestyle finals.
The 200-yard medley relay team was second, combining efforts for a time of 2:04.83.
The Leopards were fourth overall with 161 points,
Pullman won with 454 points, Prosser was sixth with 115 and Grandview was eighth with 57.
Prosser's best finish was its 400-yard freestyle relay — Rachel Forrister, Brooklyn Shultz, Abby Albrecht and Rachel Blount.
They placed fifth in the finals with a time of 4:45.73.
The four also were sixth in the 200-yard medley relay.
Grandview's Felicia Pena, Adri Graf, Jasel Perez and Kendall Roberson were eighth in the medley relay.
Placing in the Top 16 in one or more races Saturday were Greyhounds Pena, Maxine Ocamp, Caitlin McGhan and Perez.
For the Mustangs, competitors in Saturday's events included Forrister, Kaitlyn Ott, Shultz, Blount, Grace Bryan and Albrecht.
Neither the Greyhounds or Mustangs had any automatic state qualifiers. The two Mustangs relay teams in the Top 6 could be considered as wild cards.
The State Swim Championships take place Nov. 10-11 at King County Aquatic Center in Federal Way.