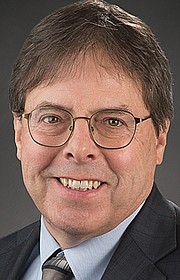 SUNNYSIDE — Eric Jensen and Rich Robinson have been named Chief Operating Officers at Toppenish Community Hospital and Yakima Regional Medical and Cardiac Center, respectively.
The announcement was made by John Gallagher, president and CEO of Regional Health.
Both appointments were effective Sept. 1.
Jensen and Robinson are seasoned health care executives.
Robinson has more 30 years of chief executive officer experience building and growing hospitals and health systems. Jensen brings more than 28 years.
Both men have a deep understanding of the Yakima and Toppenish communities and the valley.
Prior to joining Regional Health, Robinson served as CEO of Frontier Neurosurgery of Yakima and as area CEO of Yakima Regional Medical and Cardiac Center, as well as Toppenish Community Hospital. 
In that position, he oversaw strategic operations of both hospitals and the affiliated Central Washington Medical Group.
Robinson's previous leadership experience includes serving as CEO Eastern New Mexico Medical Center Roswell, N.M., CEO RHR Oil Center in Riverside, Calif., CEO Irvine Medical Center Irvine, Calif., CEO Doctors Hospital of Manteca, Manteca, Calif. and associate administrator of Doctors Medical Center in Modesto, Calif. 
Robinson received his Bachelor's degree in Business from California State University Turlock and his Master of Business Administration from Golden Gate University in San Francisco.
Robinson looks forward to working with the Yakima Regional Medical and Cardiac Center Board of Trustees, Medical Staff and Associates. Together, they will grow and expand services, improve facilities and technology, and focus on stable and effective operations. Robinson said.
"It is very exciting to be returning the hospital to local, non-profit status as a part of Regional Health," he said.
Prior to joining Regional Health, Jensen served as CEO of Valley General Hospital in Monroe, Washington. The hospital was renamed Prior to that, he served as CEO at Regional Hospital for Respiratory and Complex Care, a
specialty hospital in Seattle.
Jensen also served as CEO of Kittitas Valley Healthcare in Ellensburg and CEO of Forks Community Hospital in Forks.
He has been active for years in the Washington State Hospital Association and Association of Public Hospital Districts. He recently served as that group's president.  
Jensen received his bachelor's degree from University of Washin­gton and his Master of Healthcare Administration from Tulane University in New Orleans. He is also a Fellow in the American College of Healthcare Executives.
"The Toppenish area, including Toppenish, Granger, Zillah and Wapato, is rich in history and culture.  I look forward to working with Regional Health to strengthen the hospital and reinvest back into the hospital and its services as well as the community," he said.