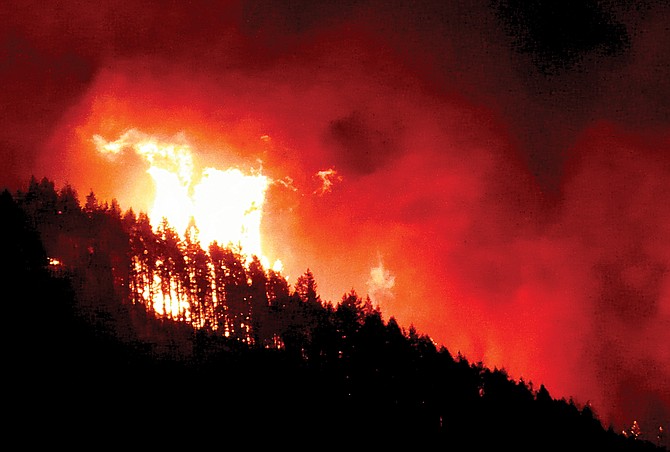 There will most likely be jokes someday about all the smoke in the Yakima Valley but, right now, it's no laughing matter.
There is concern everywhere. People are curtailing outdoor activity. Lower valley schools are not letting children out to play.
"This is pretty much the worst we've ever seen, or in a long time," Yakima Regional Clean Air Agency Public Information Officer Mark Edler said.
The level of smoke has affected the weather's impact. Without the smoke, the temperature in Sunnyside at noon yesterday would have been 82 degrees, according to the National Weather Service in Pendleton, Ore. It was 72 degrees.
The weather service noted there are air quality alerts for all Eastern Washington and most of Central Oregon and Northeastern Oregon.
According to Edler, the Department of Ecology has air quality monitors all around the state, including one on top of Harrison Middle School in Sunnyside. The system was down yesterday.
Ecology is most interested in particulate matter (PM) 2.5, which is about the smallest smoke particulate.
"These are really fine particulates," Edler said. "They can lodge deep in the lungs."
Edler said the federal standard for clean air is 35 microns or fewer per cubic meter over a 24-hour period.
Airnow.com showed a reading of 125 microns yesterday at noon for the Yakima region. It also had a reading of 219 for particulate micron 10. Either way, the air was unhealthy to very unhealthy.
Edler said the air quality this poor can seriously affect the elderly, young children whose lungs are developing and those with respiratory problems.
"We're up in the number of people who are complaining about an exacerbation of Asthma or COPD (Chronic Obstructive Pulmonary Disease)," Yakima physician Dr. Richard Edgerly said.
Edgerly said the excessive smoke is also affecting allergy patients. To most he suggests an increased use of their rescue inhalers. Some may need a little more of their steroid inhalers,
"We haven't had a patient in serious trouble because of the smoke, and I'm sort of surprised we haven't," Edgerly said. "There's really a lot of smoke out there."
Grade school children at Zillah, Granger, Prosser, Sunnyside, Grandview, Sunnyside Christian and Mabton were not allowed outdoor activity yesterday.
The same activities are not an issue at high schools, except at lunchtime.
The Prosser School District has restricted all outdoor student activities, including recesses, until air quality improves.
Housel Middle School practices for yesterday were canceled. Prosser High School practices were held indoors, and Prosser High School games scheduled for yesterday were rescheduled.
At Grandview, elementary students stayed inside yesterday for recess and P.E.
At the middle and high school students were asked to evaluate their own situations but were invited to stay indoors for lunch.
Grandview's girls soccer game at Sunnyside was postponed from last night to Saturday.
The soccer games will be in Sunnyside with the junior varsity playing at 10 a.m. and varsity at noon. 
Competitions all over the valley have been rescheduled because of the smoke.