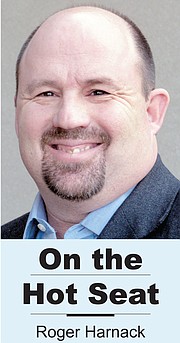 The air is so thick around Eastern Washington these days that you can taste it.
If you don't like the taste, it's possible it's your own recipe, depending on who you voted for in elections over the last several decades.
Did you vote for candidates advocating a myriad of so-called "environmental" causes? If so, then there's a good chance you can only blame yourself for the potentially hazardous air you're breathing in today.
Let me explain.
Prior to the rise of big government, the environmental lobby and a number of other organizations and their political agendas, Mother Nature managed our region of the world through fire. The historical record shows massive blazes charred the forests and sage-covered grasslands of the Pacific Northwest for as long as scientists can study the past..
Those fires killed off pine beetles, cleared the forest floor of dead wood and eliminated dry grass and sage. As the fires died, new life began — new trees, new grasses, fresh sage.
Mother Nature's fires were cyclical, eradicating the dead and dying while opening the door for new growth.
American Indians, too, modeled land management after Mother Nature. And some added agriculture as one of their land management tools.
In recent centuries, pioneers joined the land management effort — sometimes through controlled burns, but also through grazing, timber harvests and more intense agriculture.
Then came the more extreme environmental movements of the last several decades.
Motivated by big money and political agendas, backcountry roads were gated or bermed. The cutting and collecting of fire wood fell into government over-regulation. Downed trees and brush were left to rot on the forest floor. And new grazing restrictions left forest floors and grasslands ready for Mother Nature to once again take over.
So-called environmentalists manufactured "roadless" areas allegedly to protect spotted owls. But if you grew up here in Eastern Washington, you know many — if not most — of those areas already had roads and very few spotted owls.
Once that farse was exposed, politicians beholden to big money donors found ways to lock up the land by putting berms across "two-track" routes, installing gates and pushing new regulations on land access and use. Most of those donors and politicians came from outside of the rural areas being effected.
Ruralites, however, were still finding ways to access the backcountry, provide for their families and collect wood to heat their homes.
So, government agencies stepped up land acquisition efforts, claiming development was destroying rural areas. They've also created new regulations on the use of wood-burning stoves and fireplaces in homes, in the name of curtailing air pollution.
As a result, Mother Nature is back with another firestorm year. This week, 13 active fires in Washington state alone have burned more than 200,000 acres.
Today, if you live in Eastern Washington, the Columbia River Gorge and many areas along the Oregon Coast, in Idaho and Montana, you're breathing — and tasting — air laden with smoke from those and other fires.
Your children are being kept off the playground. Your athletes are being forced off the football fields. And your first responders are wearing masks to help filter out particulates.
If you look at a map of the fires in the West, you'll note that almost all are burning on land over-regulated in the name of so-called environmentalism. Almost all of the fires are burning on government-managed land.
Today, you are taking in the recipe environmental activism has been cooking for years.
Think about it when you head to the ballot box in the November. And don't be swayed by big money and political agendas.
— Roger Harnack is the publisher and editor of The Daily Sun.