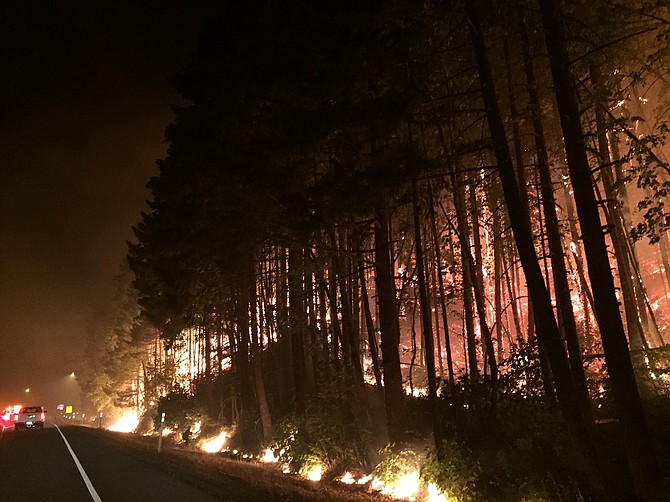 CASCADE LOCKS, Ore. — Lower Yakima Valley residents traveling to the Vancouver-Portland area this weekend will want to remain north of the Columbia River.
The fastest route, Interstate 84, remains closed between Hood River and Troutdale, Ore.
Oregon Department of Transportation officials say more than 2,000 trees scorched in the growing Eagle Creek Fire will have to be removed before the interstate can be reopened.
As of this morning, the active fire had destroyed 33,382 acres, officials said. The blaze had also jumped the Columbia River near Stevenson, Wash., burning an additional ??? acres on Archer Mountain.
Overnight, fire crews back burned the area alongside the interstate west of Cascade Locks.
The 911 firefighters trying to contain the blaze have been focusing on structure protection the last several days, and successfully kept the historic Multnomah Lodge from burning at the popular Multnomah Falls.
The Columbia River Gorge remains under a red flag warning, meaning weather conditions exist for extreme wildfire growth.
Winds are expected to gust up to 30 mph over the weekend, which may drive the fire east toward Cascade Locks and Hood River, officials said. Drier weather by Sunday may also increase fire growth.
The fire, believed to be caused by teenagers using fireworks last Saturday, is only about 7 percent contained, officials said.
Travelers are being detoured onto Washington Highway 14, around the fire area, officials said.
Highway 14 has several commercial vehicle restrictions in place between Vancouver and Paterson, which has led to delays in delivery of goods being transported from the Portland, Ore., area to the Tri-Cities and the Lower Yakima Valley.