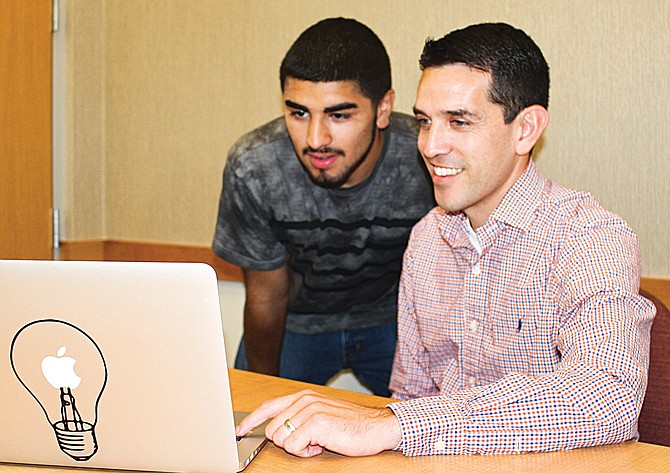 Family focus on attendance
A public meeting to explain the Sunnyside School District's "Attendance Matters" program will be from 6:30-7:30 p.m. at Sierra Vista Middle School, 916 N. 16th St.
Sunnyside High School Assistant Principal James Wise will talk about the district's attendance and chronic absenteeism and what district is doing to support students and parents with attendance.
SUNNYSIDE — His sophomore year was hard on high school junior Abel Ortega.
He missed a lot of school, and it looked like he might not be able to make up his credits to graduate on time.
He admits he missed a lot of school due to a series of family issues. His own anxiety about his situation was also a factor, Ortega said.
"I was angry and frustrated a lot. I missed school," he said.
Not being in school was very hard on a student who admits he likes school a lot. But the more he missed being in the classroom, the more lost he felt.
Fortunately for Ortega, he is back on track this year with perfect attendance in the first 10 days of school.
Ortega's fortune changed when he came to the attention of High School assistant principal in charge of attendance James Wise.
While not missing class within the first 10 days of school may seem like a "no brainer", school officials say there are already students who are on track to miss at least one class every day, putting them at risk for academic failure. Missing school is a red flag for administrators who worry about students dropping out of the school system without graduating.
Last year, the high school had a 90 percent graduation rates, but that also means 10 percent of the class failed to earn their diplomas.
It's for those students that the Attendance Matters program has been developed.
A lot of students and staff are aware of Wise visiting classrooms to see if all students are present.
For those that are, there are usually donuts or other goodies distributed as an incentive to "keep up the good work." The incentives for perfect attendance can result in a $5,000 scholarship during the past two years, two students have achieved that goal and both are currently attending college, Wise said.
But, for those students not in the classroom, a different set of incentives is needed, Wise said.
The high school has a 'no tolerance' attitude about missing school.
Based on the school year of 180 days, if a student misses 18 days, that means they are out of the classroom 10 percent of the time. That is time that can be hard to make up, Wise said.
"We don't wait until the students have missed a day. We are checking absence one period at a time," Wise said.
Wise said he chose to focus on absences during class time, rather than whole days.
A student who misses first period five times during the first 10 days of school is already in danger of academic failure.
On a happier note, Wise said that of the schools more than 2,000 students, 1,300 have perfect attendance.
"We want kids in class every day," he said.
The Attendance Matters program involves a series of steps to help identify students who may be have attendance issues, Wise said.

"We contact with students on the first absence," he said.
A phone call is made to parents to see if they know their child is missing school.
After the second and third incident, there is a talk with the student and teacher.
After four absences, Wise and his assistant Christina Valdez, encourage the student to find a peer coach.
The coach must be someone who will encourage the absentee to attend class and be a mentor, Wise said.
After five absences, the student is put into a five-day lunch-type study hall.
A lot happens during the lunch hour, Wise said. For students like Ortega, the lunch time session was where he began opening up and discussing everything that was keeping him from being in school.
Wise noted the reasons for not being in class cover a myriad of situations, from staying up too late to being needed to stay home to watch sick siblings while parents work.
By the sixth time a student is missing from the classroom, Wise calls in the parent for a conversation. "From there, we begin to create an attendance plan," he said.
For chronic cases, Wise calls in the district's community truancy board with work with students. And their parents.
"We are willing to do whatever it takes to engage students, to encourage them to stay in school and to make connections with teachers and fellow students.
Ortega,16, has now created a 10-year plan for his life, including joining the high school chapter of JROTC in the second trimester.
"I will get my diploma. I will join the U.S. Army, I will go to college and I will study to become an electrical engineer," Ortega said.
"I will be somebody," he said, adding it is because the school staff and his mentors have given him the support he needs to succeed.