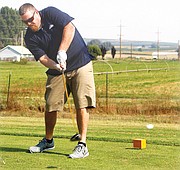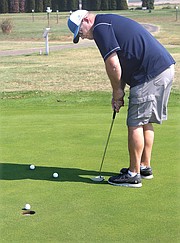 SUNNYSIDE — With most of the recent forest fire smoke dwindling, Merit Resource Services drew a gracious field for its 16th annual Bill Hayes Memorial Tournament Saturday at Black Rock Creek Golf Course.
There were 36 players in the 4-person scramble tourney through which Merit funds scholarships for graduating high school seniors. The recipients are the grand winners of this event.
Merit gave out three $1,000 scholarships last year. It wanted to match that this year and may be able to. According to Barb Wells, the organization raised about $5,200 Saturday.
"It was really nice," she said. "Still a little smokey, but other than that, a beautiful day."
There were several winners on the course, led by Zoe Wilson of Prosser. The 21-year-old won the womens long drive and closest-to-the-pin (KP) contests.
Her KP effort was seven feet, four inches, besting even the 7-11 with which Greg Gustafson of Prosser won men's KP.
Other special contest winners were Dave Story of Toppenish for mens long drive and Steve McKinnery of Tri-Cities for longest putt at 17-3.
In team results, Ideal Lumber of Toppenish, with Dave Story, Shawn Phelps, Ray Wolverton and Bob Story Jr. took low gross with 19-under par 53.
The first low net winner was Merit Pink, with Dave Wilson, Greg Gustafson and Connie Gustafson, all of Prosser. They scored 38.33.
Second low net at 38.67 was the Yakima Steak Co. team of Alan Riches, Kenny Varner and Adam Barba.