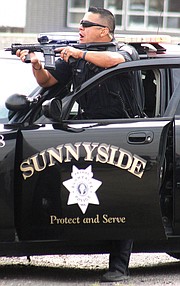 Police put out a press release Friday about Thursday's events at the Rodeway Inn and Bob's Drive-In which were reported in Friday's Daily Sun.
But police still weren't clear what triggered the incident. At first they thought it was a domestic dispute.
There was a shot fired, and that set off a massive law enforcement response and a lockdown of public and private schools.
In addition to a strong Sunnyside contingent, there were officers from the Mabton Police Dept., the Yakima County Sheriff's Office and the Washington State Patrol.
At one point, Police thought they had spotted among those involved a person who was wanted on a kidnap warrant.
Culps was wanted in connection with a Sept. 10 kidnapping, assault and robbery incident in Cheney. He and two adult females, including Violetta Culps, 18, are suspects in that case.

"(Donovan) Culps was apprehended (Thursday) in the Goldendale area.  He was not encountered at the Hotel or in the traffic stop at the time of the event," Police Cmdr. Scott Bailey said.
Police were called to the Rodeway at 11:06 a.m. When Sgt. Glossen and Officer Layman and Officer C. Sparks arrived, they came out of their vehicles with rifles in hand, having learned that a female subject had a weapon.
"As we approached the corner to the southeast of the office area of the hotel, I heard a single gunshot and yelled, 'shots fire,'" Sparks said.
A call for backup went out, and it came from all directions. Meanwhile, Sparks took a prone position behind a planter and aimed his rifle in the direction from which he heard the shot.
Sparks observed several people in the parking lot, including the suspect female, who was later identified as Demaris M. Dundas. He also saw a person he believed to be Culps. Sparks tried to detain him but was unsuccessful.
"He continued to walk toward me and I told him to get on the ground," he said. "He did not comply and smiled at me as he kept walking."
Sparks also saw Dundas get into a black Ford F150 pickup. It sped in the direction of the police through the parking lot.
Sparks got behind a brick barrier and yelled "Stop" at the vehicle as it sped by.
"The vehicle drove dangerously close to pedestrians and several police vehicles with emergency lights activated," Sparks said. "The vehicle almost struck Cmdr. Christman's patrol vehicle head-on."
The pickup nearly hit two cars on Yakima Valley Highway speeding west, Sparks said. Then the driver, Dundas, got the pickup under control and "swerved" into the Bob's Burgers parking lot.
Sparks said police conducted a felony stop. The three occupants were taken into custody.
Sunnyside Police Officer Chiprez noticed a rifle in the vehicle and had the vehicle towed to the police department for an evidence search.
Officer Layman secured a search warrant, and Glossen and Sparks exercised it. They found a Kal Tec .380 rifle an AR 15 rifle, a .22 revolver and ammunition.
The serial number had been scratched from the Bushmaster rifle. Sunnyside sent pictures of it to Yakama Nation Tribal Police to see if it matched ones stolen from them.
A second handgun was later recovered in the parking lot of the hotel, Bailey said.
Sparks also secured some surveillance video from the hotel. It shows Dundas breaking the windows to her mother's room, Sparks said, and it shows Dundas pulling a small black pistol out of her purse and firing a round into the air.
At the time the arrests were being made at Bob's, other Sunnyside officers and command staff moved into the hotel and cleared two rooms, Bailey said.
"Several individuals were detained until initial facts could be gathered," Bailey said. "There were no injuries to the parties involved, citizens or officers."
Demaris M Dundas, 18, of Yakima was charged with third-degree malicious mischief and discharging a firearm, both misdemeanors. She was also charged with eluding police and possession of a stolen firearm, both felonies.  
Culps was arrested in Goldendale at about 1 p.m. the same day. The Yakima County Sheriff's statement did not mention any connection to Sunnyside.
The deputies in that action were working on information developed by the Pacific Northwest Violent Offenders Task Force that he'd taken up residence in Goldendale.
Authorities located the apartment, he attempted to elude but was caught in a field.