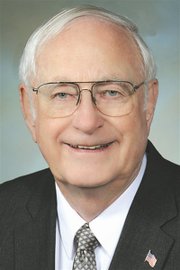 SUNNYSIDE — The Republicans and Democrats are still locked in a tug-of-war involving the state's capital budget and the Republicans' desire to undo the Hirst decision by which the state supreme court muddied everybody's water.
The Supreme Court ruled in October last year on the so-called "Hirst" case. The implications of this decision have had potentially far-reaching consequences for Washington state, say Republican lawmakers.
The Senate has passed a bill written by Sen. Judy Warnick (R-Moses Lake) that undoes Hirst. The Democrats in the House have refused to do likewise.
The Republicans have retaliated. When it came time to deal with the capital budget, Warnick, who runs the Senate, declined to bring to the budget to the floor for a vote. She was still holding her position yesterday.
The two parties have continued to talk through the summer but have come no closer to voting
Sunnyside Republican Sen. Jim Honeyford said yesterday the Republicans have offered four "Hirst" bills in the House, and Democrats have rejected them all.
"It's time for them to come up with a bill, but they've done nothing," Honeyford said.
The impasse is hurting. Honeyford has been called by two school districts which passed construction bonds but can't get the state share, which is in the capital budget.
On the other hand, Honeyford said a lot people have been hurt or will be by the Hirst decision. He said a woman from Whatcom County called asking for help.
She bought the parcel, he said, drilled the well and built her home.
"But she can't get water until she proves there's an adequate supply for her without diminishing the supply for her neighbors.
The Republicans recently received new ammunition for their argument. The Building Industry Association of Washington (BIAW) commissioned an economic research study that shows big losses coming, especially in Eastern Washington from the Hirst decision.
The study, done by HR2 Research and Analytics, shows:
• $6.9 billion lost in economic activity each year in Washington, predominantly in rural communities.
• $37 billion in lost property values in areas impacted by Hirst.

• $346 million in property taxes shifted to other properties in Washington due to the decision.
• $392.7 million in lost taxes to state and local governments, annually.
• $452.3 million in lost rural employee wages due to the impacts of Hirst, annually.
• Nearly 9,300 lost jobs (FTEs) in rural Washington, annually
• $4.59 billion in losses to the construction industry, annually.
"I knew there would be a significant economic impact, but the projected impact of full implementation of the Hirst decision is staggering," said BIAW Executive Vice President Art Castle. "It not only harms rural property owners, workers in rural Washington state and local governments, but also shows there will be a new tax increase on urban and suburban home and property owners due to a likely property tax shift of over one-third of a billion dollars a year."