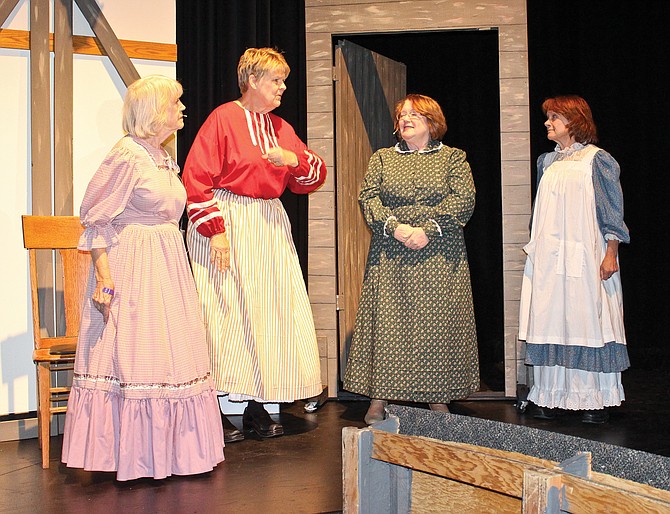 SUNNYSIDE — The "girls" in the Over the Hill Theatricals production of "Little Women the Musical" are well past the ages of Louisa May Alcott's heroines in her classic story, "Little Women."
Cast as Meg, Jo, Beth and Amy are two nurses, a businessman and a court administrator.
They pull from their own girlhoods to bring alive the characters set to music. They bring to the stage all the drama young sisters in any household can create.
Kristi Tuor of Bickleton pulls double duty in the 2017 production as both co-producer and the leading lady as the passionate Jo.
When not on stage, Tuor is a registered nurse working at PMH Medical Center.
Ann Glover of Harrah, who plays Beth, is an antique shop owner in
Wapato. She brings the proper sweetness to the story of Beth, who is the first of the sisters to die, bringing tragedy to the March household.
A court administrator by day, Debbie Mendoza of Sunnyside is Meg, the romantic sister and the eldest, although Jo generally leads the charge among the sisters.
Janet Minton of Prosser is Amy, the youngest and sometimes as bratty as any "baby" of the family can be. Minton is an administrator for Sunnyside Community Hospital Home Health Care.
The curtain opens at 7 p.m. Saturday in the Sunnyside High School auditorium, 1801 E. Edison Ave. A 2:30 p.m. Sunday matinee is also planned. Addition performances are at 7 p.m. Oct. 6-7, and at 2:30 p.m. Oct. 8.
Tickets are on sale at the door. There are reduced rates for seniors and children 12 and under.