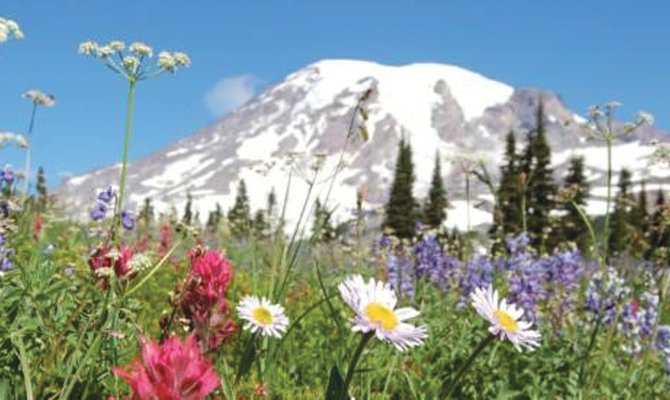 Being a role model to younger children and her peers, representing her community in a positive manner and being an example of what her community is about…these are the reasons that compelled Krisana Fernandez to compete for the 2014-15 Miss Sunnyside title.

110 YEARS AGO…(1904) Yakima County commissioners chose Frank Young of Sunnyside as the recipient of a full-ride scholarship to Pullman Agricultural College. The commissioners also appointed James Henderson to succeed Ira Miller as the registration clerk for the Sunnyside precinct.
Every hunter knows places to look for in the woods ... places where game is more likely to be approached or surprised. It's that way with Windy Wilson, too. Windy is a hunter, but he just hunts audiences, and he does believe in the catch-and-release system.

Dressed in traditional Mayan Indian costume, Samuel Becerra demonstrates how to create a clay flute in the shape of a bird.
The Direct Current Concert Series, showcasing local talent from the Walla Walla area, continues at the Gesa Power House Theatre on Saturday, Aug. 23.
Consider­ing 25 percent of the lentils in the U.S. are grown in the Palouse region, it's only appropriate that Pullman is hosting the 26th annual National Lentil Festival.
Wyatt Wentz of Prosser is organizing "Makin' 8 for Prostate," a fundraising event for prostate cancer awareness and research.
For all Gospel music lovers, it's time again for the monthly, old-fashioned Gospel music jamboree.
Washington State Parks officials announced earlier this week that campfires in all state parks will be prohibited until further notice to help prevent human-caused wildfires during the hot, dry season on both sides of the Cascade Mountains.
The Washington State Parks and Recreation Commission wants the public to know that Monday, Aug. 25, is a state parks 'free day.'
Sunnyside's Paleteria La Nortena will celebrate 25 years of business with a special event on Saturday, Aug. 23, beginning at 11 a.m.
The Grandview Church of Nazarene choir will be performing at Sunnyside's Centennial Square on Thursday, Aug. 21.
Sun Terrace Assisted Living Center in Sunnyside will be hosting a 50s sock hop and dinner today (Friday).
Previous Next