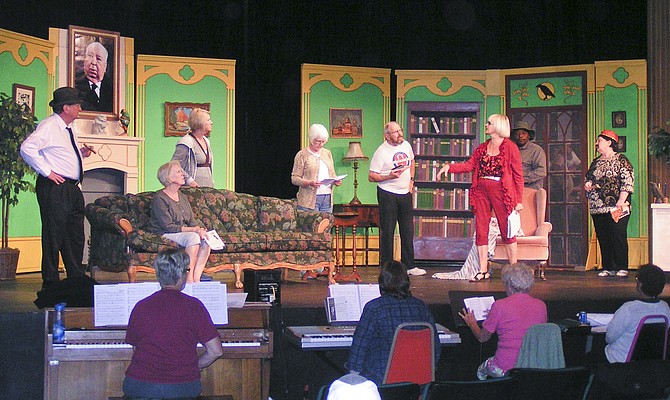 YAKIMA – Brooding dinosaurs, racing pigs and other attractions are in store for visitors starting today, Friday, at the Central Washington State Fair in Yakima.
GRANDVIEW – The Grandview Parks and Recreation Department will restart its indoor walking program at Harriet Thompson Elementary School (1105 West 2nd Street) beginning Thursday, Oct. 15.
Airfield Estates will host two events at its Prosser tasting room on Friday and Saturday, Oct. 9-10.

PROSSER – Sage Bluff Alpacas in Prosser will be open from 11 a.m. to 4 p.m. on Saturday, Sept. 26, and Sunday, Sept. 27, to celebrate National Alpaca Farm Days.
Mount Rainier National Park will celebrate National Public Lands Day tomorrow (Saturday) with several volunteer projects open to public participation.

Crowned 2015-16 Miss Sunnyside this past Saturday was Jessica Linde, and her princesses Lucero Mejia, Jaquelinne Herrera and Alyssa Ceja (L-R).

K&U Auto Parts Store employee Jeff Reihs (L) and store manager Rich Gamboa are heroes in the eyes of the reigning Miss Sunnyside Court.
GRANDVIEW – Patrons at the Grandview Library will be encouraged to invent, imagine and create, using a MaKey MaKey kit Monday, Sept. 21, through Thursday, Sept. 24.
WALLA WALLA – "Deep Love: A Ghostly Rock Opera" will be staged on Friday, Oct. 23, at 7:30 p.m. at Gesa Power House Theatre in Walla Walla.
MABTON – Vocal artist Terri Hargrove will be returning to the stage at this coming Sunday's Mabton Gospel music jamboree.
PASCO – Heritage Days at Sacajawea State Park near Pasco takes place from 9 a.m. to 5 p.m. on both Friday, Sept. 25, and Saturday, Sept. 26.
The Washington State Parks and Recreation Commission is offering free admission at state parks on Saturday, Sept. 26.

YAKIMA - The fourth annual Pirate Plunder Adventure Race is set to take place Saturday, Oct. 3, at Pirates Landing in Yakima.

The Fireworks Ensemble entertain music lovers last night, Tuesday, during the latest installment of the Lower Valley Community Concert series.
A silent auction and barbecue meal is being planned for Sunday, Sept. 20, at Sunnyside's United Methodist Church.