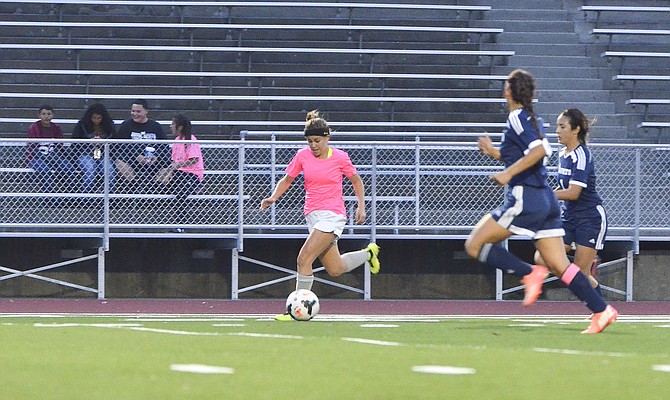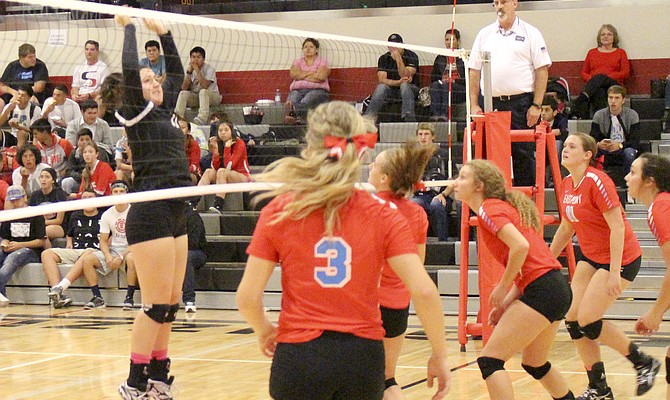 Sunnyside High School junior running back Jessica Linde evades the senior class defenders in Wednesday night's annual powder puff flag football game.
The Grizzly volleyball team's home match against Davis scheduled for tomorrow, Thursday, has been rescheduled for Saturday, Oct. 24.
A long road trip to and from Soap Lake felt a little longer for the Mabton Lady Vikings after a four-set loss to the Eagles last night.
Things have decidedly gone south for the Grandview High School girls volleyball team.
Sunnyside Christian's volleyball team improved its record to 3-0 in Greater Columbia 1B League play last night.
The Mabton Viking soccer team is likely kicking itself after losing to host Cle Elum by a 1-0 score.
Not even a generous overture by host Eastmont was enough to help the Grizzly soccer team get its first W of the season, as last night the Sunnyside girls squad fell 9-1 playing a 9-on-9 game.

Sunnyside High School sophomores Moises Morales and Daniel Perez (at right) keep the play alive during the annual macho man volleyball match held last night as a part of homecoming week activities.
The trio of Katelyn Banks, Kristen Broersma and Emily Banks combined for 23 kills in leading the Sunnyside Christian varsity to a three-game rout of the Zillah JV.
It won't make any highlight reels Pirate fans will want to hang on to, nonetheless last night's non-league volleyball match went Bickleton's way.
Sherri Graff has enjoyed football most of her life.

It was the second and final league loss for the Mabton soccer team this past Saturday.
Previous Next