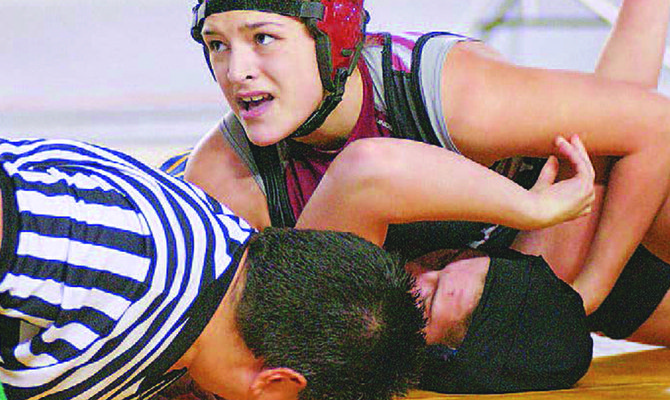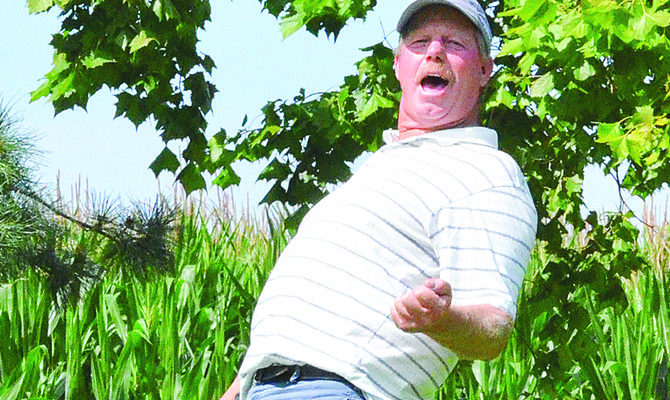 GRANDVIEW – The Grandview Parks and Recreation Department has announced the results of last week's Threes and Frees Shootout.

Sunnyside Noon Rotarians had an opportunity to congratulate a few members of the Sunnyside Rotary Sharks swim team at the club's weekly meeting this past Monday, before handing over a $7,468 check to Marissa Broersma, the team's assistant coach.

Paul Hatcher of Salem, Ore. eyes his hand while taking on Brittany Pierce of Springfield, Ore. last Friday.
Sharks edge Tarpons by four points for second
The race, it turned out, was for runner-up honors at last weekend's season ending Mid-Valley Swim League championship meet.

Local team runner-up at slo-pitch tournament
For one day, a Lower Valley team of AARP qualifiers turned back the clock and qualified for the championship game Sunday at the Old School Senior Softball Tournament at Sunnyview Park.
All-American Sports Posters has been authorized by Mabton Athletic Director Brock Ledgerwood to produce athletic posters to assist Mabton's athletic programs.

Sunnyside's 509 Ballerz basketball team earned the second-place trophy in the boys fourth grade division at the AAU West Coast National Championships in Las Vegas last weekend.

Efforts are underway in the Lower Valley to revive a summer fastpitch softball program on hiatus for the past few years.


Swim league championships on tap this weekend in Othello
The head-to-head portion of the 2014 Mid-Valley Summer Swim League schedule ended uneventfully for both the Grandview Neptunes and Sunnyside Sharks last night.

Last night, a monkey wrench got thrown into what looked to be a two-horse race at next week's Mid-Valley Summer Swim League championship meet.

Back in the mid-1970s, Chris Golob was wowing Sunnyside High School basketball fans with his moves on the court.

Sunnyside summer youth baseball programs just received a financial boost, thanks to C Speck Motors in the form of a $500 donation.
Previous Next