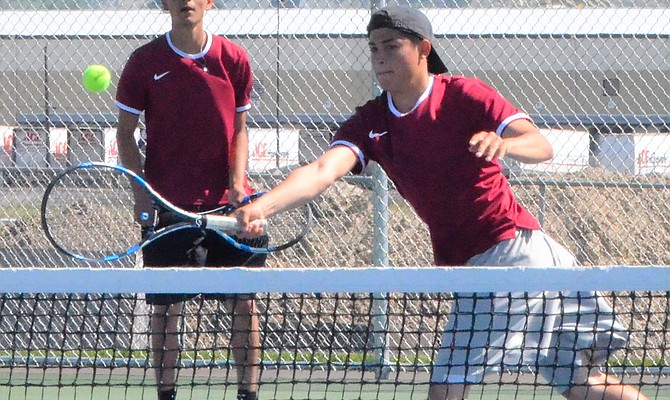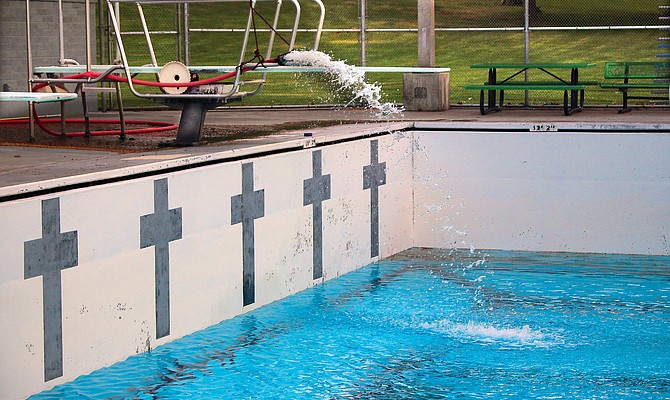 More than $3,000 will benefit Sunnyside High School students and athletes as a result of the B.J. Miller Memorial Golf Tournament.
Slade brothers in finals against Leopards
Granger and Zillah were scheduled to face each other last night in a major clash at the South Central Athletic Conference sub-district tennis tournament.
District 5/6 action continued on the courts at East Valley High School yesterday.

Lone run scored by Ariel Howard
Thanks to fielding errors one of the Spartans' fastpitch players was able to advance to third base and eventually score a run against College Place in the district opener.

Noe Medina passes the baton to Phoenix Medina in the seventh-grade 4x100 race at yesterday's season-ending middle school track meet at Sunnyside High School.

Baseball team takes 1B district championship
The Sunnyside Christian boys baseball team brought home two wins and a state 1B quarterfinals berth Saturday.
Fine play has kept some Grandview High School players in the field of the 2A district tennis tournament, which started at East Valley last weekend.

Tournament honors B.J. Miller's memory
People from near and far gathered Saturday at Black Rock Creek Golf Course to participate in the 10th annual B.J. Miller Memorial Golf Tournament.
The Grandview fastpitch team season came to an end Friday with an 18-17 loss to the Wildcats.
The Yakima Valley Dust Dodgers and Tieton Highlanders Vintage Motocross Club have partnered to build a track for youngsters interested in motorcycle sports.
The Prosser and Grandview track teams joined eight other Central Washington Athletic Conference teams at Friday's district meet at Jaycee Stadium.
McKinney holds 12th place
Two Sunnyside Christian golfers advance to Wednesday's district golf match.
The Sunnyside Christian fastpitch team hasn't lost hope as it must face one more opponent to secure a spot in the state 1B tournament.

Sunnyside in loser-out state match tomorrow
With a state berth on the line, the Sunnyside boys soccer team knew Friday's match with Eisenhower would be hard-fought.
Fans of motorcycle racing can enjoy plenty of action tomorrow at Horn Rapids Kart Track, 3234 Twin Bridges Road.
Events