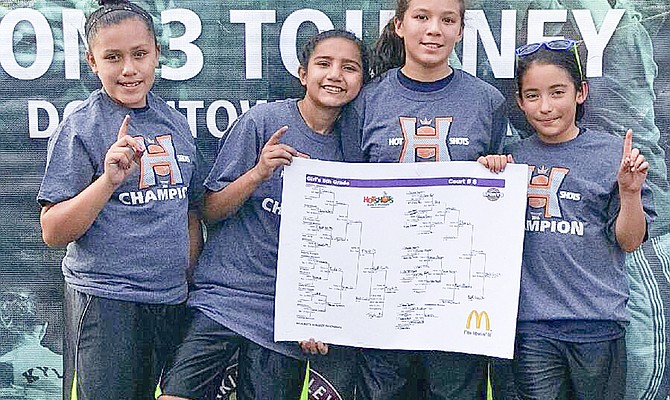 Sunnyside Sharks claim runner-up honors for sixth consecutive year
PROSSER – Selah has a death grip on the Mid-Valley Summer Swim League championship trophy.

Wanting to create more fun and enriching opportunities, specifically for children in kindergarten through sixth grades, Monica Guillen has signed on as the newest member of the Sunnyside Parks and Recreation Board.
Hunters may need to consider alternative locations for their traditional hunts this year because of drought- and fire-related access restrictions on Washington's public and private lands.

"I had a hard and challenging experience" said Scout Elias Peacock, "Yet fun when we set up to camp."

During the recent National Cheerleaders Association camp at Central Washington University in Ellensburg, the Sunnyside High School squad earned several awards.

Danny Zavala and Lupe Maldonado are both Mabton natives and work for the Sunnyside School District.
The host Othello Barracudas last night avenged an earlier season loss to Grandview, winning by a 415-356 score Tuesday evening.
Sunnyside's summer swim team capped off heads-up competition this season by cruising past the Toppenish Tarpons last night, 495-313.

Attracting a field of contestants hailing from as far away as Pasco, the city of Grandview's Parks and Recreation Department held its annual Threes and Frees contest last Friday. Held at the Grandview's Community Center, results of the hoop shooting contest were dominated by youths from Pasco and Zillah.

Luke Cortez of the Neptunes races to the end of the pool last night in the boys 8&U, 40-yard butterfly event.

Sunnyside Sharks swim team member Gage Newhouse stands with his uncle, Aaron Prins of Mabton, this past Tuesday after Prins was named the grand prize winner in this year's Sunnyside swim team raffle drawing.

It's been a long road for Ben Sartin from his start with trail riding horses to breeding and competing with cutting horses.
Following a request by their unions' bargaining units, classified staff employees in the Sunnyside School District are now eligible to apply for coaching vacancies in the district.