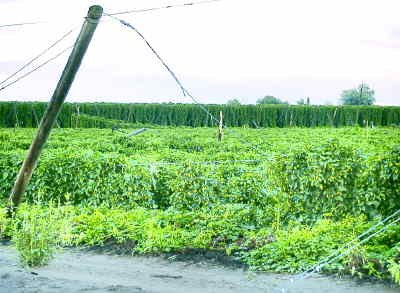 The harvest-ready hops in a number of Lower Valley hop yards, like this one on Chase Road near Grandview, crashed to the ground early this past Sunday morning under the weight of more than an inch of rain. Valley hop ranchers believe strong winds could cause additional trouble in the rain-soaked fields.

Stories this photo appears in:
Lower Valley hop growers woke up early this past Sunday morning to hear the snapping of hop poles just after dawn. The sudden weight created by an unseasonable rain storm on the vine-ripened Yakima Valley hops created enough strain to down seven hop yards, ranging in size from seven to 37-acre yards.