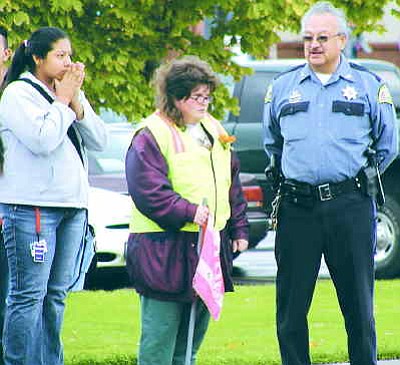 Carolyn Shifflett (C) is filling in at the crosswalk in front of Harrison Middle School on South 16th Street, where her late husband, Ronnie Shifflett, spent much of the past 11 years. "I feel comfortable filling in for my husband," she said. He was killed in a pedestrian-automobile accident in July. "We're happy to have her out here helping us," said Chico Rodriguez (R), Sunnyside school resource officer.    

Stories this photo appears in:
Standing not much taller than some of the middle school children waiting for her "go-ahead" to cross the busy South 16th Street, Carolyn Shifflett of Sunnyside commands attention as she steps out into the street with her school crossing flag.