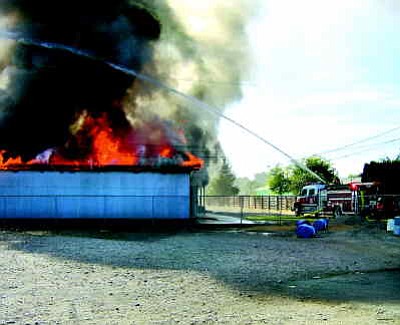 Lower Yakima Valley firefighters found the TV Towne building fully engulfed after arriving on the scene late yesterday afternoon (Thursday). Here, firemen pour water onto the back of the building as the fire roars nearly unhindered. The furniture and appliance store, as well as its contents, were destroyed in the blaze. Early estimates are that the damages will exceed well over $1 million. Of the three boys believed to be responsible for the fire, one of the youths, a 12-year-old, has been charged with arson.

Stories this photo appears in:
Three juvenile boys were arrested Thursday afternoon shortly after Sunnyside firemen responded to a fire that destroyed the newly remodeled Sunnyside TV Towne store on Yakima Valley Highway.