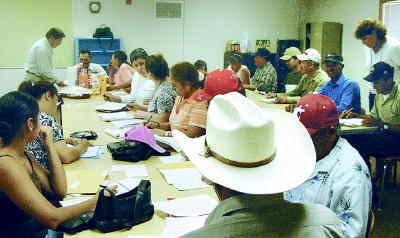 The citizenship class instructed by Julio Romero (standing at left) and coordinated by Blanca Orozco (standing at right) was hard at work this past Monday despite the heat in a portable classroom at St. Joseph's Church in Sunnyside. Among those taking a practice test are Baltazar Lopez (in foreground, back to camera), Lupita Barajas (to his left) and (sitting at the right of Orozco) Miguel Sanchez of Outlook and Sunnyside residents Antonio Contreras, Reynaldo Cruz and Juventino Abonza.

Stories this photo appears in:
Pending immigration laws that could shake up residents who have lived five, six and even 15 years in the United States-and Sunnyside specifically-have given birth to a citizenship class at Nuestra Casa at 1007 South Sixth Street.