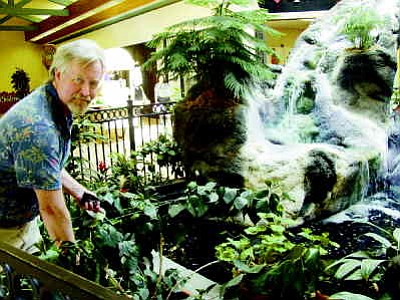 Phil Davis, The Plant Man, dishes out a drink of water to thirsty plants at Mid Valley Mall's water feature located in the center court. Tropical plants, which have a short life indoors, aren't financially feasible for clients, so he said he aims for a tropical illusion at the mall by using lacy-looking Norfolk Island Pine at the top of the waterfall and spiky Bromeliad, which will last three months, and a rosy colored Kalanchoe, which has a life of about six months.

Stories this photo appears in:
Tender care comes naturally to "The Plant Man"
Tender care comes naturally to "The Plant Man"