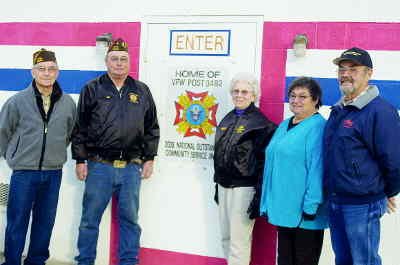 Sunnyside VFW Post and Ladies Auxiliary members are one of 68 posts to receive national recognition for community service efforts. Pictured left to right around the reflective sign they were given as a result of their efforts are Senior Vice Commander Darrel Cook, Sunnyside VFW Post Commander Bill Ingram, Community Service Chairwoman Betty George, Ladies Auxiliary President Sharon Hallman and Post Quartermaster Clair Johnson.

Stories this photo appears in:
In a volunteer organization, it's a phenomenal task to find someone willing to track minute details on a regular basis, but the Sunnyside VFW Post and Ladies Auxiliary has managed to do so, and with the help of Bill Ingram and Betty George, it has earned the local organization national recognition.