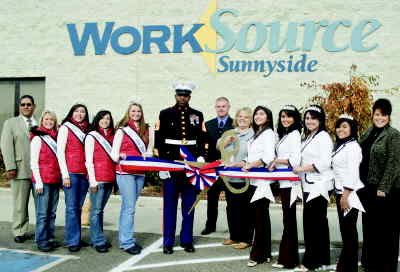 Several people gathered at the WorkSource Sunnyside office yesterday, Wednesday, to kickoff the "Warm Socks for Cold Feet" drive with a ribbon cutting ceremony. The project is the brainchild of Vista Americorps Disability Navigator Specialist Carol Carrillo. Pictured left to right are Sunnyside Chamber of Commerce President Jesse Hernandez, Miss Sunnyside Princesses Audra Hayes, Ivette Torbay, Avalon Valencia and Miss Sunnyside Rebekah Paulakis, Marine First Sgt. Michael L. Pullom, WorkSource Operations Manager Jack Fitzgerald, Carrillo, Miss Cinco de Mayo Royalty Jazmine Salmeron, Daniela Ramos, Rubi Chavez, Margarita Manzo and Chamber of Commerce Director Pam Turner.

Stories this photo appears in:
Carol Carrillo is bound to keep local feet nice and toasty throughout the winter. It's for that reason that the Vista Americorps Disability Navigator Specialist at the Sunnyside WorkSource office is conducting a "Warm Socks for Cold Soles" drive from now until right up to Christmas.