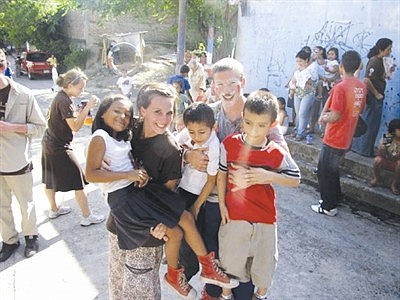 Children in Cojutepeque, El Salvador were ministered to by teens from the U.S. on a recent mission trip. Four of those teens were from Sunnyside's Neighborhood Church Assembly of God. Pictured are a couple teens from the mission's group, playing with El Salvadorian children.

Stories this photo appears in:
COJUTEPEQUE, EL SALVADOR - The Communist party is now in power in the South American country of El Salvador. Evangelism is prohibited in secondary schools and the children attending schools in the community of Cojutepeque must do so with barbed wire fencing and bars on both the doors and windows.