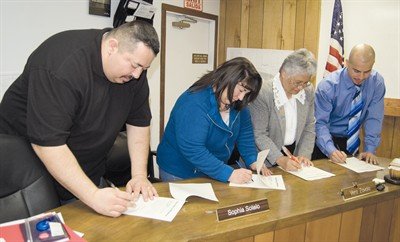 Signing their oaths of office to start a new term of service for Mabton city government in 2010 are (L-R) Councilman Mark Gorneau, Councilwoman Sophia Sotelo, Councilwoman Oping Hutson and Mayor Angel Reyna. All four were elected in the general election this past November. All except Hutson were elected for the first time to their respective posts. Later in last night's, Tuesday's, council meeting Hutson was selected mayor pro tem.

Stories this photo appears in:
MABTON - The Mabton City Council is considering raising the city's garbage rates by 5 percent.