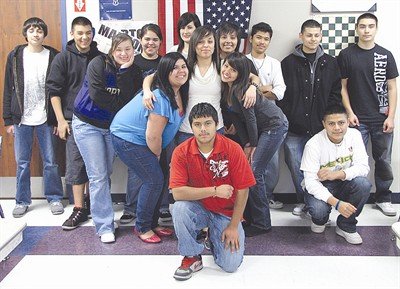 Mabton students in the environmental science class of Steven Bennett recently conducted a study of nitrate levels in well water. They include (front) Antonio Espinoza; (middle L-R) Danielle Peralez, Alexandra Hernandez and Yonathan Flores; (back L-R) Amando Pimentel, Santos Venegas, Shanika Zavala, Nohemi Meza, Veronica Vazquez, Celina Rodriguez, Alexis Martinez, Victor Silva, Gerry Barajas and Daniel Quintero.

Stories this photo appears in:
MABTON - "We didn't know much about the dangers of nitrates in well water until we researched it," Mabton High School student Victor Silva said of a study conducted by students in Steven Bennett's environmental sciences class.