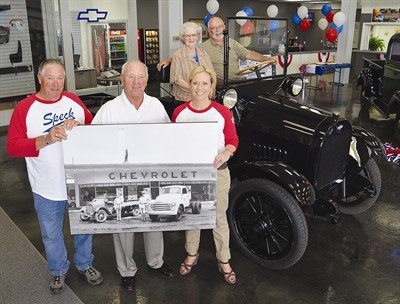 Katy Moore (R) along with Uncle Steve Speck (L) and father Jim Speck display a photo from 1947. Seated atop the 1919 Chevrolet Model-"T" truck are Lorraine Kean and son Jim Jewell. Kean's father, Fred Jewell, purchased the truck new from Clayton Speck in 1919.

Stories this photo appears in:
Lorraine (Jewell) Kean remembers slowly driving her father's 1919 Chevrolet truck down the rows of the family farm on Emerald Road. as he loaded produce for the trip to town.