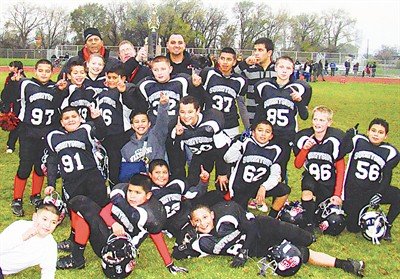 Sunnyside's 11-year-old Grid Kid 'B' squad celebrates winning the championship game against the Yakima Redskins last Saturday. The team members include (front L-R) Derrick Escamilla, Fabian Chavez, Jason Pina and Fabian Santos; (second row L-R) Jaden Siller, Isaiah Gonzalez, Ethan Montelongo, Jose Campos, Brennan Rip and Damian Gonzalez; (third row L-R) Elias Zaragoza, Julian Michel, Stephanie Blankenship, Nathan Campos, Marcus Maldonado, Alex Mendez and Lucas Dykstra; (back L-R) coaching staff Max Saldana, Phillip Blankenship, Lupe Maldonado and Ramon Hernandez.

Stories this photo appears in:
Longtime Sunnyside Grid Kid program organizer Max Saldana nearly beams as he tells those with whom he comes in contact about the local youth program.