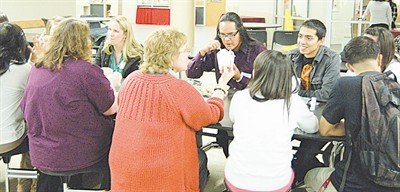 Leadership students sat down with the Native American Leadership Academy members for lunch. The SHS students answered questions and explained how the school has improved over the last few years.

Stories this photo appears in:
Sunnyside High School students made a big impression on visiting teachers, counselors and administrators from six tribal schools around the state, so much so that an attendee said the high school should be featured on the television show 60 Minutes.
ELLENSBURG - Thanks to a fierce comeback, the Lady Greyhound volleyball team extended its season with a 3-1 upset of host Ellensburg last night.