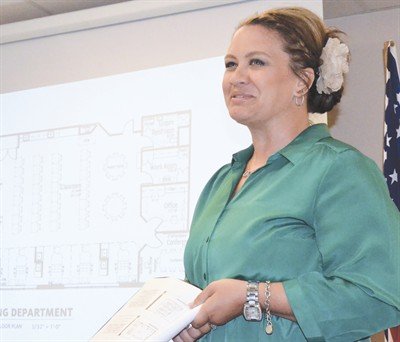 Holly Ohler of Sunnyside High School talks to Sunnyside's Daybreak Rotary Club about the YV-Tech Skills Center currently under construction.

Stories this photo appears in:
A vision of helping students obtain skills for a future career is becoming a reality in Sunnyside. Sunnyside High School Career and Technology Director Holly Ohler on Wednesday morning was the featured speaker at Sunnyside's Daybreak Rotary Club meeting. She provided an overview of the programs to be offered at the YV-Tech Skills Center currently under construction. Ohler said nursing, welding and construction are the more popular programs that will be available to Lower Yakima Valley students seeking technical skills. The programs were decided upon based on the certification requirements and partnerships with community colleges in Washington state. Ohler said the skills center was a vision of Sunnyside Schools Superintendent Dr. Rick Cole and that vision dates back to 2006. It was last year that legislative support was garnered by Sen. Jim Honeyford (R-Sunnyside). Ohler said Honeyford's support kick-started the process of obtaining state funding for the construction of the new skills center. She said the Port of Sunnyside has agreed to lease 3.6 acres for the skills center at the cost of $2 annually for 80 years. YV-Tech, said Ohler, is set to open at the beginning of 2014 and will boast state-of-the-art facilities. It will also have top-notch equipment available to students. "Added to the programs will be an office skills class with an emphasis on medical services," she told the Daybreak Rotarians. Currently there are 50 Sunnyside High School students enrolled in programs offered by YV-Tech. Ohler said some of those students take advantage of programs offered at the Yakima branch of the skills center. "The largest impact to us (SHS) will probably be the welding program," Ohler said, stating students at SHS will most likely take advantage of the welding program at YV-Tech because it will be easier to obtain certification. "There is continuity...we have difficulty with that because of our trimester system," she said, noting SHS teacher Tom Dolan may be the instructor of the program at YV-Tech. Ohler continued, stating the new YV-Tech campus is designed with future expansion in mind. She said the programs, too, may change over the years. Which programs will be offered will be dependent upon the demand for technical skills in various industries. "It's flexible for the purpose of meeting the changing needs of the community," said Ohler.