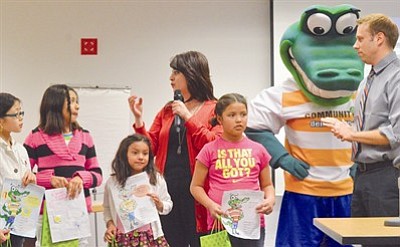 Community Dental Center of Sunnyside at Thursday's Sunnyside School Board meeting recognized winners of its coloring contest held in conjunction with a dental education program at the district's elementary schools. Dental awards were presented to (front L-R) Lily Froese-Raihl, Gaby Gomez, Brissi Alvarado and Zada Hernandez. Presenting the awards are (back L-R) Rubi Ruiz, Chomp and Dr. Brent Martin.

Stories this photo appears in:
Sunnyside Community Hospital will pay the Sunnyside School District $1 per year as per a lease agreement approved by the Sunnyside School Board last night.