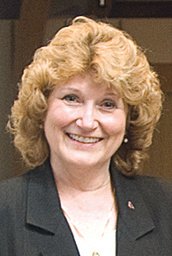 Rev. Pat Beeman
Stories this photo appears in:
Recently, I heard a story about a little boy who had been to church and heard the announcement that there would be guest preachers for the next four Sundays because the pastor was going to be on vacation.
Recently my husband and I traveled to Greece. It was a wonderful trip. Besides enjoying the sun and blue waters of the Aegean, we were fortunate to see many places that are important in Christian history – Corinth, Patmos, and Thessalonica.
"My grace is sufficient for you, for power is made perfect in weakness." (II Corinthians 12:9)
For He is our peace, who has made us both one. (Ephesians 2:14)
The Lord is my solid rock, my fortress, my rescuer. My God is my rock – I take refuge in him! He's my shield, my salvation's strength, my place of safety. – Psalm 18 (Common English Bible)
Life is full of interruptions. We start to do something and someone comes along needing our help or attention and we get off track.
A prairie farmer appeared at a bank asking for a loan of one dollar. He acknowledged that it was customary to provide collateral for any loan and produced a ten thousand dollar saving bond.
In the story of creation found in the Book of Genesis, we read where Adam and Eve had partaken of the forbidden fruit, something which had been specifically denied them. Knowing that God is searching for them, they attempt to hide.
Not so long ago I was browsing in a gift shop featuring lots of "touristy" merchandise.
Summer brings summer activities. Whether it is cheering for your kid's Little League baseball team, playing some tennis or golf, or following the teams competing in the World Cup. Summer means summer games.
This is Memorial weekend.
Religious Reflections
Psalm 118 - "Give thanks to the Lord, for he is good; his steadfast love endures forever!"
Religious Reflections
There is a legend from the Orient about a traveler making his way to a large city. One night he meets two other travelers along the road – Fear and Plague.