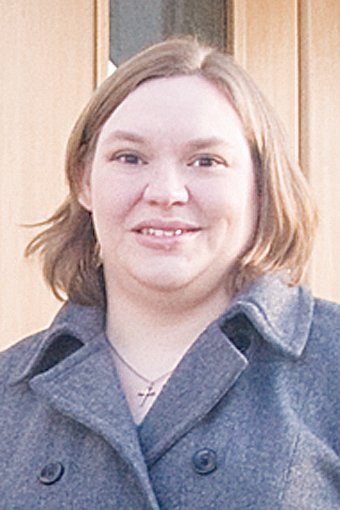 Rev. Katrina Walther

Stories this photo appears in:
In his book, Tattoos on the Heart, Father Greg Boyle tells a story about sitting down with prison inmates and discussing empathy, sympathy and compassion.
My middle sister used to say, during her rambunctious teen years, that she didn't want to go to church because it's full of hypocrites. My father, who is also a pastor, answered in all love and seriousness: there's always room for one more.
Growing up, I had a sandbox. Dad built it for me, and it was my favorite place to play. I would take my favorite toys out to the sandbox and make up stories to act out.
In this community you will find many different churches. Some of us are liturgical, some are not. Some of us worship on Sundays, some on Saturdays. Some of us read Bible passages each week from what's called the Revised Common Lectionary; some of us follow a schedule of Bible readings set by our individual church or denomination.
The Holy Gospel according to Luke, the 14th chapter: When Jesus noticed how the guests chose the places of honor, he told them a parable.
11 Finally, brothers and sisters, farewell. Put things in order, listen to my appeal, agree with one another, live in peace; and the God of love and peace will be with you. 2 Corinthians 13: 11
I always look forward to Christmas Eve worship. At the end, we light candles and sing "Silent Night," then we turn the lights back up and sing "Joy to the World" loud and strong.
"All earth is hopeful," begins one of the Advent hymns in our denomination's new hymnal.
30 I have chosen the way of faithfulness; I set your ordinances before me. 31 I cling to your decrees, O LORD; let me not be put to shame. Psalm 119: 30-31
A reading from Paul's letter to the Philippians, the 4th Chapter:
A reading from Paul's letter to the Galatians, the fifth chapter:
At the age of eight, I took what I was sure was the longest walk ever. With my family and the members of my church, St. Paul's Lutheran of Rehburg, I walked the six miles from our country church building to the United Church of Christ building in town.
Religious Reflections
Imagine gathering in a darkened stone sanctuary in early December. Outside, the sun is just setting. Inside, the electric lights are dimmed to a warm glow, matching the candles in the worship space.
And now for a rousing game of Name That Miracle!