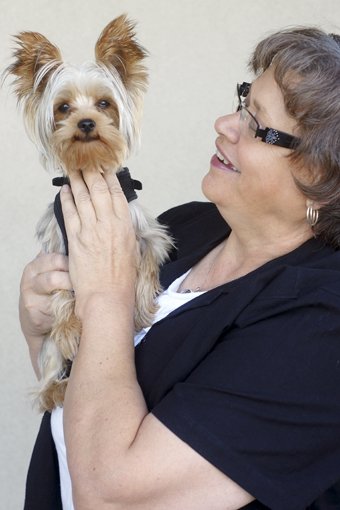 Travel Buddy by Julia Hart
Stories this photo appears in:
I like taking South 16th Street past the Sunnyside schools on my way home on most afternoons.

I must admit I love snow - in the hills, on the lawn, in the fields – everywhere except on the sidewalks and streets.
When interviewing foreign exchange students I always hope that I do not come off as the "Ugly American."
Learning to play nice with others has been a difficult road for Buddy. It is not that he wants to fight particularly, but he does appear to want to argue a lot. And he always wants to be right.
I may have mentioned on occasion that my Yorkshire terrier, Buddy, while adorable, is a bit of a terror.
There are so many things in life which are simply not fair. For example, it is not fair that Buddy, who is so very clever, can't open the front door so he can go outside by himself.
I don't think Buddy knows a doggone thing about how to enjoy holiday food. He nibbles at his kibbles one piece at a time, while others in our house, like me, gobble two or three cookies at a time.
During the past week it appears as though downtown Sunnyside has undergone a transformation.
I wouldn't say my favorite canine friend is a fashion hound.
Buddy and I were discussing putting up a few Charlie Brown-type Christmas lights this year to celebrate his first holiday in the Hart household.
Travel Buddy
Driving around town with Buddy attempting to hog the front seat is a bit of a challenge.

Buddy and I were discussing the qualities of a good leader recently and came to a brief parting of the ways.
Travel Buddy
I love packing up Buddy and hopping in the car for quick little jaunts around the Lower Valley. He is always pointing out items of interest to me. He has a keen eye and notices everything. I know this because he barks whenever he finds some-thing of interest. As it turns out he barks a lot.
Travel Buddy
Buddy is a dog - at least I think he is. Since arriving quite unexpectedly in my lap last May, the feisty, but happily rescued Yorkshire terrier has been a loyal, self-centered, demanding companion.