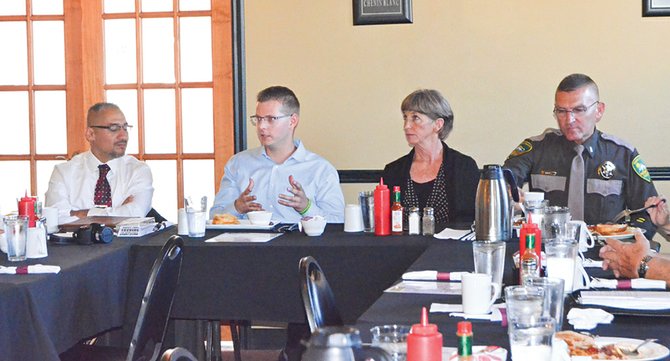 County clerk candidate Jose Trevino, auditor candidate Micah Cawley, clerk candidate Janelle Riddle and sheriff candidate Brian Winter (L-R) were the featured speakers at this morning's Sunnyside Republican Club meeting. Similar meetings featuring other candidates will be held June 27 and July 11 at Sunnyside's Bon Vino's Bistro & Bakery. The 7 a.m. no-host breakfast meetings are open to the public.

Stories this photo appears in:

This morning (Friday), four candidates who will be on the Aug. 5 Primary Election ballot spoke to those attending the Sunnyside Republican Club meeting, sharing their experience and qualifications. Jose Trevino and Janelle Riddle are both vying for the position of county clerk.