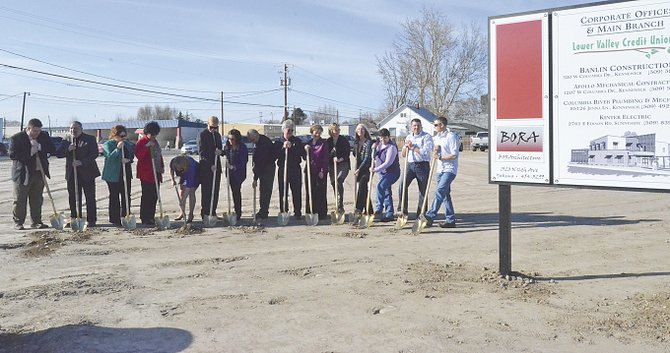 Lower Valley Credit Union staff members and others involved in the construction of a new branch office in Sunnyside break ground on the project yesterday. Wielding golden shovels are (L-R) Wes Edwards, Phil Robillard, Erika Aranda, Rita Gutierrez, Ellane Jepson, Josh Beck, Suzy Fonseca, Cus Arteaga, Kenny Nelson, Lois Lyon, Julie Schilperoort, Carol Newhouse, Caroline Patnode, Ty Hoffard and Colby McGary. A 10,000 square foot building will sit at the corner of Yakima Valley Highway and North Ninth Street in the near future.

Stories this photo appears in:

The site has been prepped and the first shovels full of dirt have been dug.