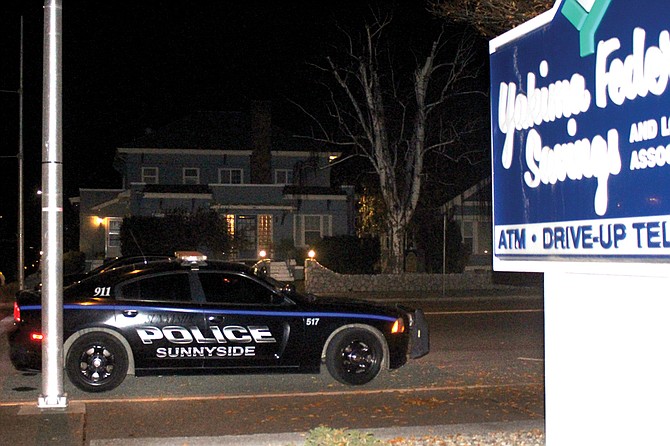 Print date: November 7, 2017
A Sunnyside Police patrol car sits in front of Yakima Savings and Loan, 801 E. Edison Ave., Sunnyside, after the business was robbed at about 4 p.m. Tuesday.

Stories this photo appears in:

Suspect wore a dust mask and flat-bill hat
Police are still looking for information on the masked man who robbed Yakima Federal Savings and Loan about 4 p.m. Tuesday. The suspect is described as a white or light-skinned Hispanic male, standing 5-foot-3 to 5-foot-5, and weighing about 130 pounds.
Print date:November 9, 2017

Police are investigating the holdup of the Sunnyside branch of Yakima Savings and Loan about 4 p.m. today. The robber got away with an undisclosed amount of money. He is described as about 5-foot-3 and thin wearing a baseball hat. Police said he was described as either white or a light-skinned Hispanic.