Lead stories
Board acts before crowd even speaks

Sex education is off the table after more than 50 people showed up at Tuesday night's School Board meeting to protest a proposed new curriculum.

A special meeting of the Sunnyside Parks and Recreation Board that had called for 4:30 p.m. today was changed to 5:30 p.m. The meeting will take place at the Sunnyside Community Center at 1521 South First Street, Recreation Coordinator Lander Grow said.

The Community awards banquet and auction will be held Jan. 29 at the Walter Clore wine and Culinary Center, 2140 Wine Country Road.

High Density zones will be the main topic Thursday when the Prosser Planning Commission meets at 6 p.m.
Daily Sun social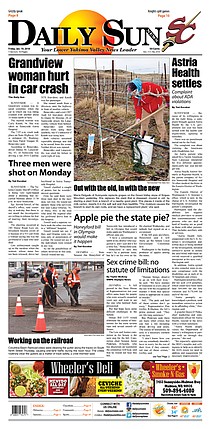 =