Lead stories

High-speed chase ends when trooper rams vehicle
A man suspected of robbing the U.S. Bank branch here yesterday morning, made his get-away in a car, but it lasted only as far as Sunnyside.
If you're tired of being male or female, you may have a third choice after a hearing this afternoon.
Meth found on Pacheco following arrest
On patrol a little after 2 a.m. Dec. 2, policeman Casey Briggs noticed what appeared to be a large-bladed weapon between a man's legs and the frame of the bicycle he was riding.
Daily Sun social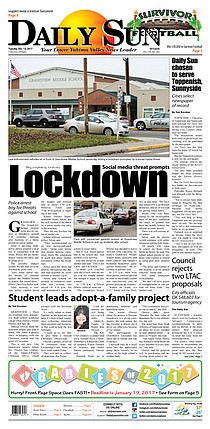 =