Lead stories

Nobody hurt in Sunnyside drive-by
Police were looking for a gunman who opened fire on a pedestrian last night in front of the Paragon Apartments.
One inductee will be honored posthumously
The photographs and names of two former students will be added to Sunnyside High School Alumni Wall of Fame Friday, one posthumously.
Other projects complete, some taking shape
The traffic signal project for the Yakima Valley Highway and 6th Street intersection won't happen as quickly as planned.
Sunnyside Civil Service Commissioner Ron Price chats with City Manager Don Day and Councilman Ron Stremler at Wednesday's Board and Commissions Meet and Greet held at Centennial Square.
Daily Sun social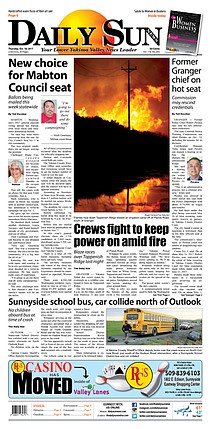 =